How to make an auto graded quiz
1. Add Questions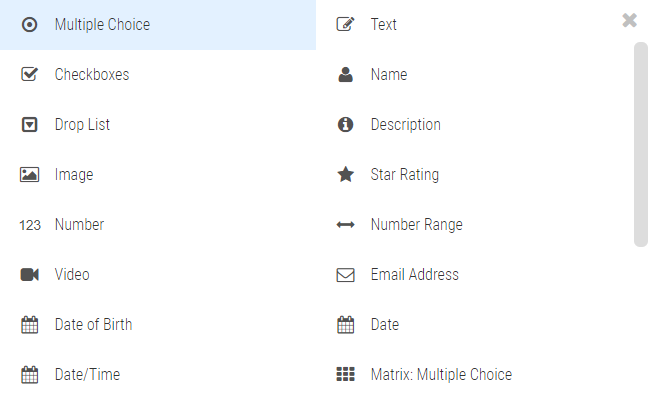 From the Quiz type drop down select 'Trivia / Marked'
Hit 'Add Question' and select 'Multiple Choice'
Now add your answers in the answer field boxes
Tick 'correct answer' where appropriate
Repeat the above for all of your questions
2. Assign Grades
Hit the 'Results' tab at the top of the Quiz Maker
Now hit the 'Grades' and Add Grade then Ok
Enter a title for your Grade and a description (option)
Enter minimum and maxium score for your grade
Repeat the above for each grade.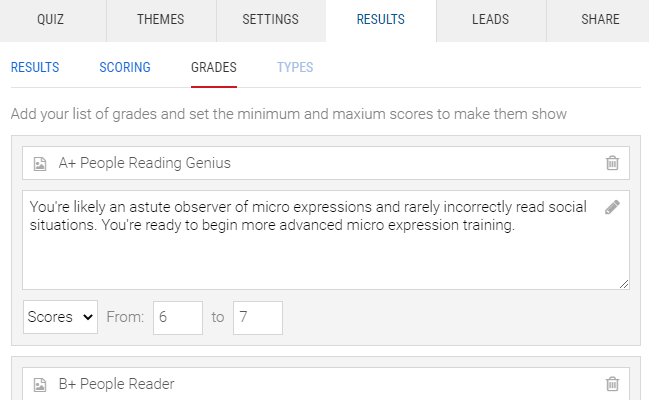 3. Hit Share and Publish
Hit the Share tab to grab a link to your auto graded Quiz
Optionally hit the 'Embed' option to copy code which can be pasted into your content management platform to display on your website.
Have questions for us?
We have help guides on every feature we offer that show you step by step how to do just about everything quiz related. Please also get in touch if you're still not sure how to make your quiz.
Is Quiz Maker free?
There are both free and subscription options when using Quiz Maker. The free version is limited to 25 responses and 1 quiz, you'll also see ads on your quizzes. All subscriptions are offered with a 14 day free trial, love it or pay nothing! If you only need one quiz and need more than 25 responses then simply signup for a subscription and cancel before your trial expires. You won't be charged a thing.
Checkout our plans here
.
Do I need to signup to use Quiz Maker?
We do recommend signing up. That way you can access the Dashboard, export your results and manage all your existing quizzes. There are
both free and paid plans
and signing up doesn't mean you have to pay.
How do I access my results and existing quizzes?
Simply
access the Dashboard
and complete the signup form if you haven't already done so. You don't need to pay for a subscription to access the Dashboard.
How do I assign certificates?
You can assign a certificate to all or only those which attain certain grades. Hit the 'Results' and then turn on the Certificates feature. Hit configure to load the certificates wizard.
Where do I create my quiz?
How do I assign a score and a grade?
Read the tips below if you're looking to capture leads or create engaging content. If you're running a trivia quiz with the aim to improve learning retention we've
compiled a list of tips here
.
How do I add pictures to my Quiz?
Add either a multiple choice or checkboxes question. Then simply hit the image icon in either the question or answer fields to add images. You may search for images or upload your own.
How do I email respondents and/or myself results?
You can have each response emailed to you and a respondents response emailed to them. Simply hit the 'Results' tab and checkout the email options.
How do I add a login to my quiz?
You can add a login to your quiz by enabling the setting on the 'Settings' tab above.
How do I redirect respondents to a URL after completion?
Select 'Assign Types' from the Quiz Type drop down on the 'Quiz' tab. Now go to Results, Types and hit 'Add Type'. Hit the button to enable 'Redirect to a URL'. Add your type and enter your URL.
How do I create my own personality test?
Do you want your quiz to assign a type based on how respondents answer?
Checkout this guide here
. If you simply want to quiz your friends on your own personality you can create your own trivia quiz. Checkout the examples above to either use as a template or get some ideas.
What is Lead Capture?
Lets assume you've created an amazing quiz that is about to go wildly viral. You can use your viral quiz to generate email addresses and other details by requiring one final step before your respondents complete the quiz. Hit the 'Lead capture' tab and take a look at the settings. Read below to see how businesses have generate in excess of $1 million using lead capture.