How to Make an Online Trivia Quiz
Create an online test which assigns a score
The following guide shows step by step how we created a trivia quiz using our 8th grade history quiz as an example.
1. Add Questions and Scoring
From the Quiz type drop down we selected 'Trivia / Marked'
Hit 'Add Question' and now select 'Multiple Choice'
For our first question we typed 'When did the titanic sink?' and then hit the icon to upload a picture of the titanic.
Enter each of your possible answers and tick 'correct answer' on the correct answer. You can also hit the if you want to offer image answers.
2. Change the Theme/Look and Feel
We wanted our quiz to look visually engaging for students so we changed the look and feel of the quiz.
Hit the 'Themes' tab at the top of the Quiz Maker
Browse the list of themes and select your preference by clicking the theme
Now hit Preview at the bottom of the quiz maker to see what your quiz looks like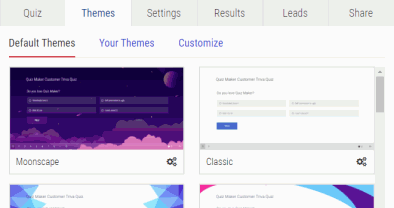 Set quiz grades
3. Share with Respondents
Your quiz is now set to go and will automatically score respondents.
Hit the 'Share' tab at the top of the Quiz Maker and you'll be presented with a couple of ways to share your quiz with respondents
If you haven't already created a free account you should do so in order to view your respondent results
More Questions?
We have help guides on every feature we offer that show you step by step how to do just about everything quiz related. Please also get in touch if you're still not sure how to make your quiz.