How to Make a Quiz which Assigns a Type
Things to know before you get started
It's good to know how the quiz assigns a type or outcome before you get started. You need to know the questions you intend to ask and which answer relates to which outcome/type. It is your answers which are going to build a connection to your type/outcome. If we're building a quiz which is going to recommend a holiday destination you might ask 'What kind of activities do you enjoy' Your answers may include: Swimming, Climbing, Hiking, Driving and Dinning out. We would match a travel destination for each of these answers. These answers allow us to match very different travel recommendations and create an engaging quiz. Once each of your answers is connected to an outcome/type our Quiz Maker will automatically assign the best match. If things are still unclear the instructions below will provide more clarity.
1. Add Questions and Answers
Give your quiz a title and from the Quiz type drop down select 'Assign Types'. Make the title capture the respondents imagination. The title is what will be used when your quiz is shared on Social media.
Hit 'Add Question' and now select 'Multiple Choice'
For our example question we entered 'Whats your favorite type of chocolate?' and then hit the icon to upload a picture of delicious dark chocolate.
We wanted to capture a range of flavors from the very bitter to the very sweet
Continue the steps above for each of your questions. We suggest between 5-8 questions for maximum social engagement
Pro Tip: Quizzes with images as questions or answers see much higher engagement metrics. Keep it short, visual and fun!
2. Add Types and Assign them
Hit the 'Results' tab and then Add Type
Enter a title for your type (Cabernet Sauvignon in our example) and a description. We described the characteristics of the wine and included a link to an online store.
Hit the 'Assign answers to this Type' button' and now click each answer which relates to the type we just described. Hit 'Ok'
Repeat the above for each of your types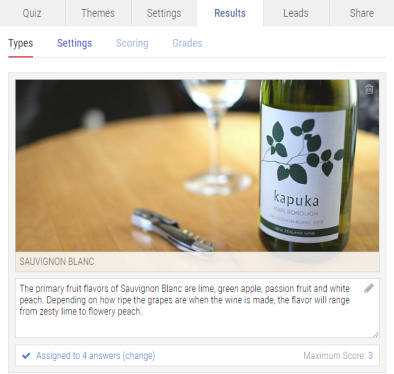 Add your quiz types
3. Share and Go Viral
Hit preview and take your quiz to ensure it's working as you'd hoped. You might want to use Leads to capture email and contact details of your respondents (Hit 'Leads' to get started).
Hit the 'Share' and you'll be presented with a couple of ways to share your quiz with respondents
If you haven't already created a free account you should do so in order to view your respondent results and see which types are being suggested most often.
More Questions?
We have help guides on every feature we offer that show you step by step how to do just about everything quiz related. Please also get in touch if you're still not sure how to make your quiz.