Are You A Storage Guru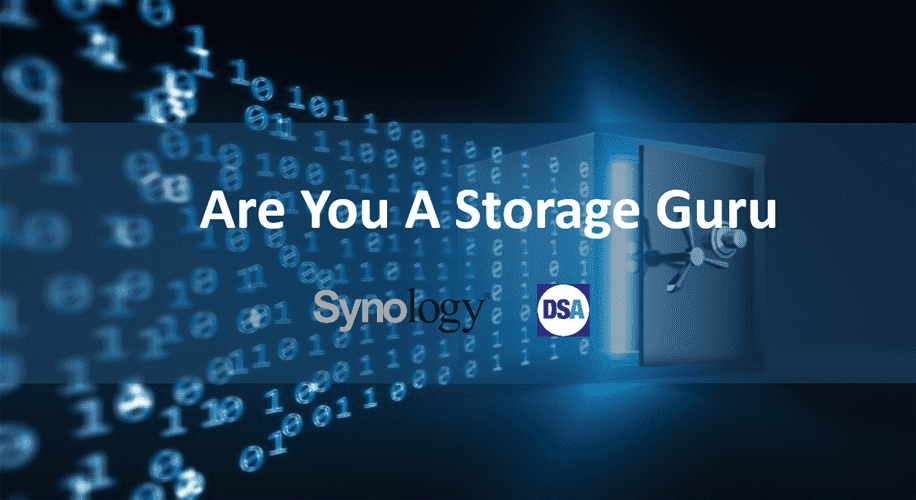 Today's NAS products use technology that enables users to implement and setup without needing to have a high level of IT administration skills. As an example, NAS providers like Synology provide feature like QuickConnect that allows client applications to connect to your Synology NAS via the Internet without the hassle of setting up port forwarding rules. What does this mean for users?
By creating a unique server ID, you can access you Synology NAS over internet via a simple customizable address like Quickconnect to/example instead of an IP address
Speed up transfer rates between connected users and the NAS
Makes it very easy to connect the NAS device to your LAN
Allows you to plug in or pull out a LAN cable even when the NAS is in use
Today's Modern NAS provides cloud like file sharing capability with the security and control of keeping your data on your own infrastructure. Which of these features increases convenience and ease of use for cloud like shared file access? (Tick all that apply)
Mobile application access to your files.
Create web-based links to share files.
Allow more than one user to work on a file at the same time.
Allow users to view, play of listen to any type of file from within their file viewing interface
When using a storage device for use with a VMware environment, it is very important to ensure that your storage hardware can meet the demands of the virtualised applications. For this reason, companies like Synology provide advice on how to calculate the IOPS of their different models and different configuration. Why is this important?
Because VMware needs to connect to iSCSI storage
Because this proves that installing a NAS with SSDs will be faster than using HDDs
Because this will measure how many reads and writes the applications may need to make every second and whether the NAS can meet that requirement.
Because IOPS is shown in the Synology resource monitor so it's the best way to measure performance capability
Any good NAS product will provide some kind backup capability to protect your business workloads. In the case of Synology they offer license free backup capability which covers all but one of the following? (Tick ONLY the workloads that Synology's backup protects)
VMware
G-Suite
Salesforce.com
Office 365
Whilst modern NAS is reliable there are many reasons why you need to protect your NAS from failure of even cyber-attack. In addition to local NAS to NAS clustering and snapshots how can business protect themselves from data loss from location specific disasters (like an office fire)?
Ensure your NAS is kept in a secure room
Implement NAS to NAS cross site replication
Implement multi version backup
Always use RAID configured hard drives.
The Btrfs (Or Butter File System) was developed to make business grade storage systems more robust and resilient. Which of these features would a NAS device using Btrfs benefit from? (Tick ONLY answers that apply)
Faster IOPS
Snapshot capability
Incremental backup
Support for SSDs
Data Deduplication
Auto-detect corrupted files (silent data corruption)
One way to ensure users can quickly get back files they have deleted or amended throughout the day is?
Connect a second NAS for redundancy
Implement mirroring
Implement Snapshots
Overnight backup
Even though SSDs are faster than HDDs there are ways to get even faster performance from your all storage. As an example, Synology developed SSD Cache which does the following:
Makes sure the most intensive applications use the fastest SSD
Provides a migration path from HDD to SSD
Stores the most commonly accessed data on high performance SSD
Provides a faster transport protocol from SSD to memory
Synology developed a specific version of RAID (RAID F1) for SSD storage. It was designed to stop multiple SSD's failing at the same time. Why did they need to do this?
Because SSD is known to fail more unpredictably than HDD
Because SSD has a finite number of times you can write then delete data to it.
Because SSD works better when used for mirroring or striping
Because SSD overheats if too many parity bits are written to it too often
For business-critical enterprise applications it is worth implementing your NAS in an HA cluster, why is that?
An HA cluster provides active /active processing
An HA cluster ensures even if your NAS completely fails your applications will still have access to data.
An HA cluster means you can move data between different geographic locations in real time
An HA Cluster means that your application will get the processing power of multiple NAS servers instead of just one
Would you like to receive email invites to Synology Storage and NAS online and classroom workshops?
{"name":"Are You A Storage Guru? - Take the Quiz", "url":"https://www.quiz-maker.com/QTZ9IOY","txt":"Name, Email, Job Title","img":"https://cdn.poll-maker.com/39-1304146/synology-graphics-quiz.png?sz=1200-00000000001000005300"}